Jaipur is the capital of Rajasthan. The city offers the incredible beauty of its forts, temples, museums, and lakes. Although, there are various beautiful places in Jaipur you must explore during your Jaipur Trip. If you have researched this now, it's time to explore some beautiful places nearby Jaipur, which will make you leave the comfort of your home and study.
Places to Visit Nearby Jaipur
1) Bhangarh Fort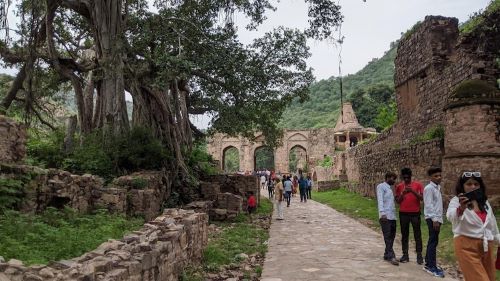 Bhangarh Fort is one of the most sought-after tourist places near Jaipur. Situated 85 KM from Jaipur. It is considered a Haunted place as the infamous Bhangarh Fort stands there. Once upon a time, it is regarded as the Jewel of the City, but the fort is now ruined. Many tourists and researchers worldwide come here to witness the paranormal activities and admire the fort's beauty. A notice board of the ASI Department also warns tourists not to visit the fort after sunset.
Address: Tehsil, Gola ka Baas, Rajgarh, Bangarh, Rajasthan.
Timings: 10 AM to 5 PM
Entry Fees: ₹ 20 for Indian and ₹ 200 for Foreigner
2) Sariska National Park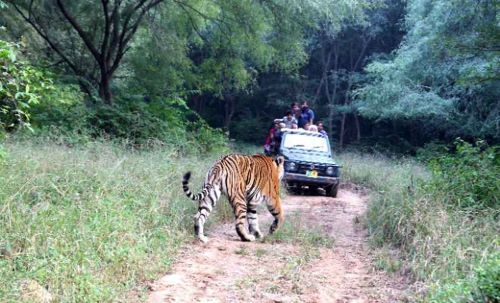 Sariska is the most preferred adventure place near Jaipur, located 107 KM from Jaipur. If you are passionate about wildlife, you have to visit this place to see the animals up close. Royal Bengal Tiger is the main attraction of this reserve. Although, Leopard, Nilgai, Sambhar, Chital, etc. are found here. Also, Sariska offers an exciting Jeep Safari that lets you spot tigers, endangered bird species, striped hyenas, leopards, monkeys, hyenas, jackals, and deer. Apart from being the home of Tiger Reserves and other animals, the city is also famous for its Temples and Lakes.
Address: Subhash Chowk, Station Road, Mala Khera, Rajasthan.
Timings: 6 AM to 3 PM
Ticket Price: ₹ 125 per car fee is necessary to enter. Foreigners pay ₹ 100, Indians Pay ₹ 20 while a ₹ 200 is the price of the Video Camera.
3) Pushkar
Pushkar is one of India's oldest cities and has immense religious significance. It is located 161 KM from Jaipur, a popular gateway for families, as it houses a temple devoted to Lord Brahma, one of the world's rarest temples. The temple is among the most serene places to visit in Jaipur. Also, you can enjoy the camel fair during the summer season. The city has a bustling market for buying and selling colorful local knickknacks and souvenirs. It is the best place to visit near Jaipur.
4) Bikaner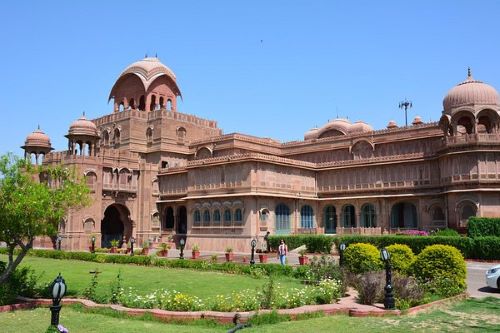 Bikaner is a trendy tourist town located 335 KM from Jaipur, known for its iconic forts, places, and scenic beauty. The city also serves various sweets and snacks besides historical monuments and forts. Also, you can visit the dunes or swings around the huge Havelis found in almost every city street. The city also has a museum that houses a model biplane, one of two used by the British in WW1. It is one of the famous places near Jaipur.
5) Chittorgarh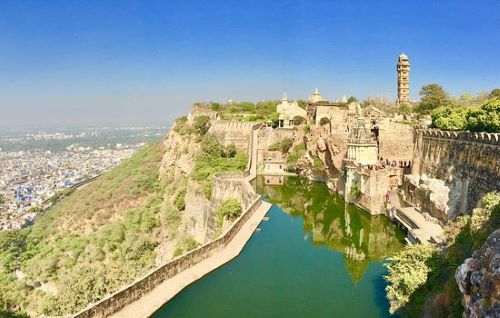 Chittorgarh is famous for its rich Rajputana Culture and beautiful Historical Monuments for its 7th century Chittorgarh Fort situated 360 KM from Jaipur. It's considered one of the most remarkable places near Jaipur. It is not only the largest fort in India but also a World Heritage Site, attracting lakhs of tourists every Year. However, the beauty of the fort is enhanced by its two major attractions- Vijay Stambh and Kirti Stambh. Also, there are many reservoirs inside the fort premises.
Address: Chittorgarh Road, Chittorgarh, Rajasthan
Timings: 9 AM to 5 PM
Ticket Price: ₹ 50 Per Person for Adults and ₹ 25 for Children
6) Sambhar Lake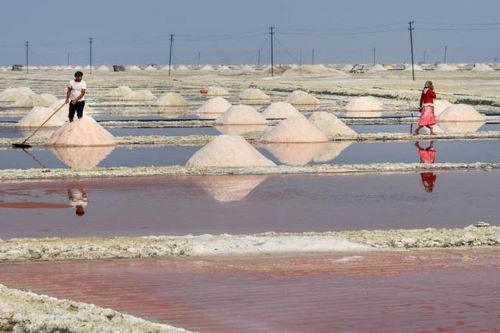 Sambhar Lake is located a very short distance of 96 KM from Jaipur and is considered one of the best nearby places in Jaipur. Due to the location's proximity, this lake is top-rated among the Tourist and residents of Jaipur. When tourists reach Sambhar Lake, they will get a chance to please their eyes with the sprawling white landscape. The picturesque beauty of the surrounding will inspire you to visit this place many times.
7) Ajmer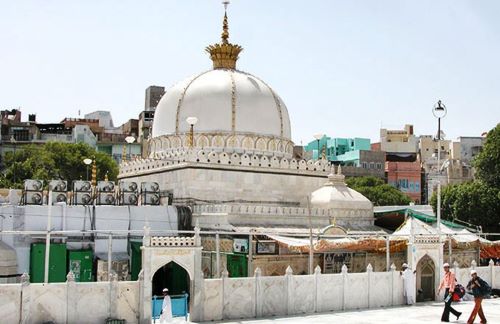 Ajmer signifies divinity and a special kind of charm regarding Islamic History and Culture. Millions of travelers around the world visit the shrine of Khwaja Muin-ud-din Chishti, who founded India's premier Sufi order in India. Apart from the sacred center, many tourist places like Ana Sagar Lake, Moinuddin Chisti, and Taragrah Fort will make your trip worthwhile. Also, you can visit bustling markets and buy souvenirs for your loved ones.